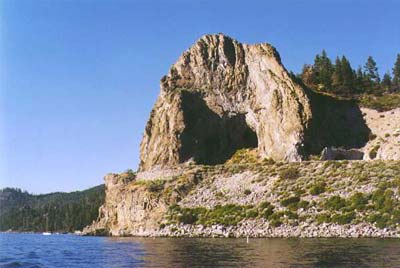 Cave Rock is one of the most recognized landmarks at Lake Tahoe. It is located between Zephyr Cove and Glenbrook. It was formed as a volcanic vent approximately 5 million years ago. Small caves on the west side were cut by waves during the ice ages when the lake was 140 feet higher.  Native Washoe Indians who put their deceased to rest in the cold waters below the outcropping consider the spot to be holy. The Washoe considered Cave Rock sacred because of "The Lady of the Lake". The "Lady" appears in the rock as the profile of a woman's face looking out toward the lake.  Cave Rock is currently under the protection of the US Forest Service.
Cave Rock Estates is located adjacent to the land, to the south.
In the early 1960′s a group of developers subdivided their land into approximately 110 properties. These parcels range in size from about 1/3 acre to just over one acre.  The development was named Cave Rock Estates because it is adjacent to the historic Cave Rock.  Many of the parcels have been acquired by public entities, including the State of Nevada, Douglas County, and the US Forest Service, but about eighty properties remain in private ownership.
Because the neighborhood lies in the middle of the eastern shore of Lake Tahoe, and above the waterfront, amazing views of the whole lake and the entire Sierra mountain range across the western horizon are enjoyed by the Cave Rock Estate homeowners.
At the base of Cave Rock Estates is a State Park with a picnic ground overlooking the Lake. There are also barbecues and fire pits, a small sandy beach, a boat launch for watercraft, and a comfort station.
Just 6 minutes south of this community, there are excellent schools and playgrounds, a library, and the famous Zephyr Cove Lodge that offers beaches, boating, horseback riding and stern-wheeler and trimaran cruises.  Traveling another 3 minutes, one will find a mall with a Post Office, a grocery store, restaurants, a fire station and other shops. Another 3 minutes brings one to the casinos, hotels, restaurants, Heavenly gondola, ice-skating, and the beautiful Edgewood Golf Course.
A 20 minute drive northeast over Lake Spooner Pass to Carson City are major malls with Costco, Wal Mart, Best Buy, Home Depot, Trader Joe's, Staples, World Market, Galaxy Theaters,  numerous restaurants and much more.